New Product Release: [V4] Advanced Feed – Best way to satisfy human connectivity of users
October 24, 2017 | 1625 Views
Hey there,
Exiting new from YouNetCo: Our latest app [V4] Advanced Feed is officially released now!
When participating in a social networking site, are you interested in being updated on the latest activities and connecting with other people by quickly posting new contents, reading, sharing and commenting on other's contribution? If so, we guarantee that the Advanced Feed plugin will serve you well.
Advanced Feed module is equipped with numerous advanced features:
Tag and hashtag provide a fantastic way to mention your friend in a post or a quick search of all feeds that contain certain hashtag. 
Privacy and Filters help users share their feed to the right people and make their main wall cleaner by filtering out unnecessary feeds.
In addition, it provides Feeling, emoticon, location check-ins and also business check-ins which are a must-have on any social network.
User can save feed, these will be displayed as filter at welcome tab
Show/Hide notification from a post
Support filtering many modules on feed list includes basic core modules, YouNetCo apps

Basic core apps: Photo, Blog, Event, Marketplace, Poll, Quiz, Forum

Beside filtering feed, users also can sort feeds by: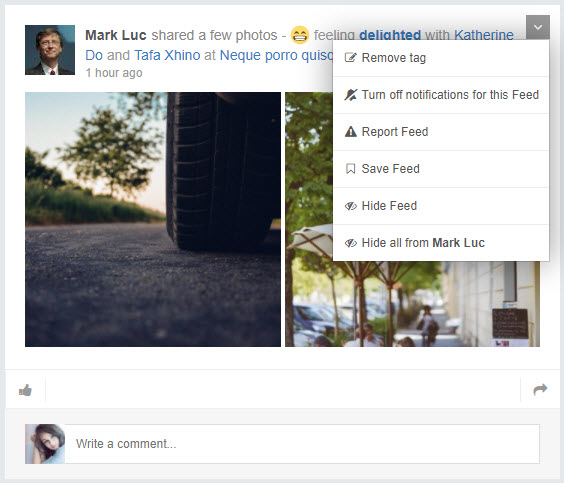 For more details of full features, please refer to the product posting or experience yourself on our demo site.
PROMOTION: For a limited time only, save 20% Off for all purchases of this app on phpFox Store until the end of Oct 30, 2017 (PST).  Don't miss this chance to buy the Advanced Feed V4 app for your phpFox V4 community! 
For those who are having Deluxe package, please submit a ticket in our Client Area to get this new app added to your account in phpFox store.
Hope that you will be interested in our Advanced Feed V4 app. If you still have any queries, please feel free to contact us, and we'll get back to you in soonest.