Spreading Love on Valentine Promotion 2019
February 14, 2019 | 1878 Views
February came and tags along with a number of fantastic moments such as civil rights achievements, President's Day, wine appreciation… But let's not forget that this short month is also the month of Love. Yes, it is Valentine's Day! Take the day to focus on positives like how much you love someone, whether it's your romantic partner, your friends, your parents, or even members of your community. As on this Valentine's Day, we sincerely bring you our Valentine Promotion 2019. So why not upgrade your network with incredible and useful products to show how much you love every member with this Valentine's Day gift from YouNetCo?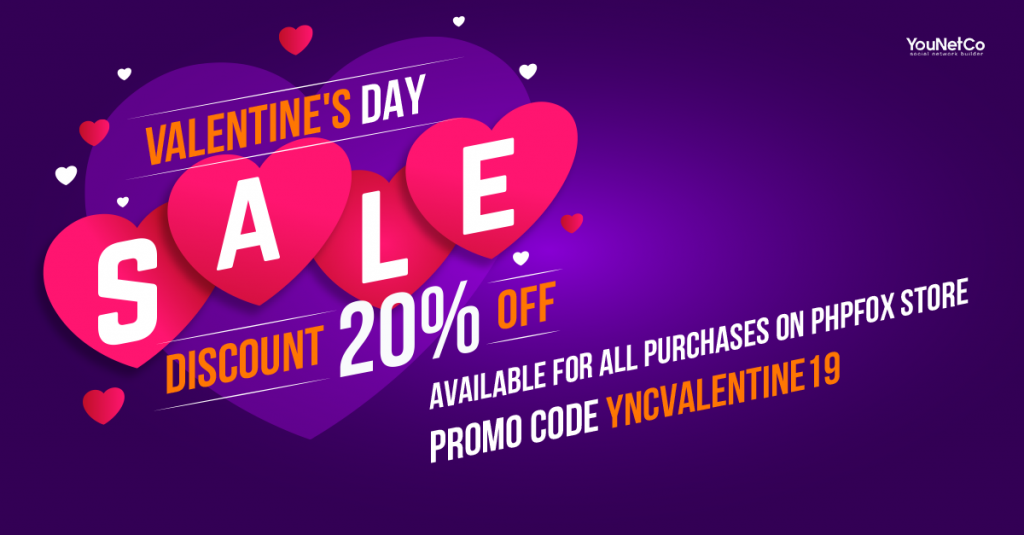 YouNetCo Valentine Promotion 2019
Spreading loves to your community by claiming 20% Off on all YouNetCo purchases from phpFox Store from 14 Feb to 20 Feb 2019 (PST).
Promo Code: YNCVALENTINE19 
Whether you're currently in love, you've never been in love, or being in love has always ended painfully. Be happy and celebrate Valentine's Day to show appreciation and how fortunate you are to love and to be loved!
Have any questions? Please feel free to contact us or submit tickets in Client Area.