New Product Release: [V4] – Web Push Notification
April 17, 2018 | 1318 Views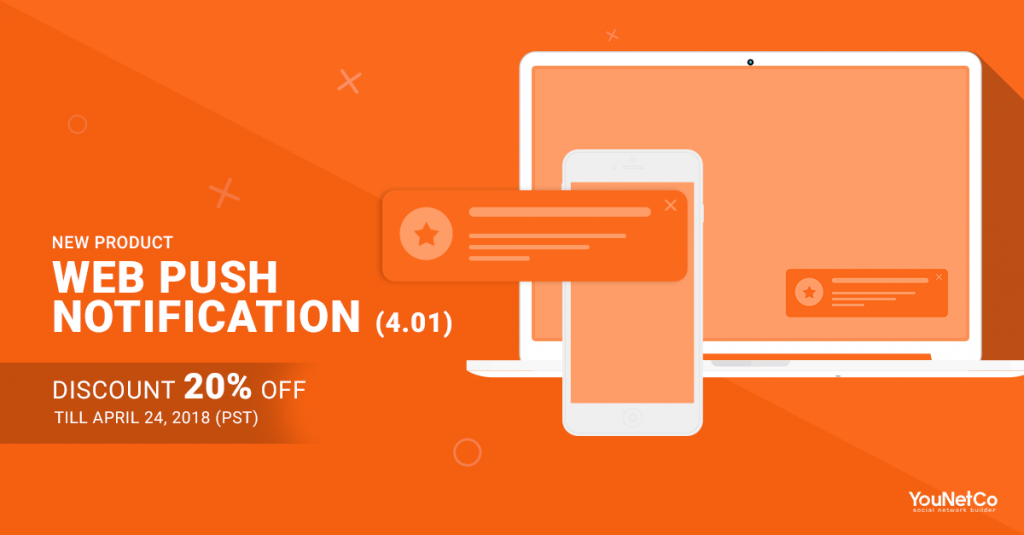 After a pleasant spring season of March, we welcome April with full of new opportunities and fresh air. And in this joyful atmosphere, YouNetCo is also happy to bring you a big surprise to cheer up your April. However, before we tell you more about it, let's answer these questions to unveil this wonderful present:
– Do you want to increase traffic and engagements of your site?
– Have you ever wish that there is be a way for you to send notifications or announcements even if users are not currently on your site?
If the answers are 'Yes' for both questions, then you will definitely love our latest V4 app: Web Push Notification.
Web Push Notification app allows users to receive messages instantly from your site even when users do not currently open your site.
Using the power of Google Firebase, this app can help you increase the engagements to your network by notifying users about anything which happens on their accounts in real time such as interactions, friend requests and much more right on their desktops.
You can also create your own custom message and send it to targeted receivers or schedule to send a message to achieve maximum engagement at a specific time.
Especially, with this app, you are able to send unlimited push notifications without spending any extra on hosting.
Let's have a look at the app's key features:
Integrated with PHPFox Notifications with real-time and instant push notification.
Custom and personalized notification.
Targeted and meaningful notification.
Scheduled notifications.
Send unlimited notifications.
Custom notifications delivery status and re-sending.
Manage subscribers.
Supports Multiple Browsers: This plugin supports all major web browsers: Chrome: 50+, Mozilla: 44+ and Opera Mobile: 37+
Fully compatible with mobile.
For more details of full features, please refer to the product posting or experience yourself on our demo site.
P/S: To celebrate this release, we are happy to offer discount 20% OFF on all purchases of this app. The promotion is valid until the end of Apr 24th, 2018 (PST).
For those who are having Deluxe package, please submit a ticket in our Client Area to get this new app added to your account in phpFox store.
We believe that Web Push Notification app is simple yet powerful enough for anyone to try and love it.
If you still have any queries, please feel free to contact us, and we'll get back to you as soon as possible.