Update on Advanced Blog 4.02
February 1, 2019 | 910 Views
Howdy everyone,
The first month of 2019 is passing by so quickly. To wrap up this busy yet productive month, we are back with a version update on Advanced Blog. Indeed, the latest Advanced Blog 4.02 primarily aims to enhance current features and boost up blogging experiences of users.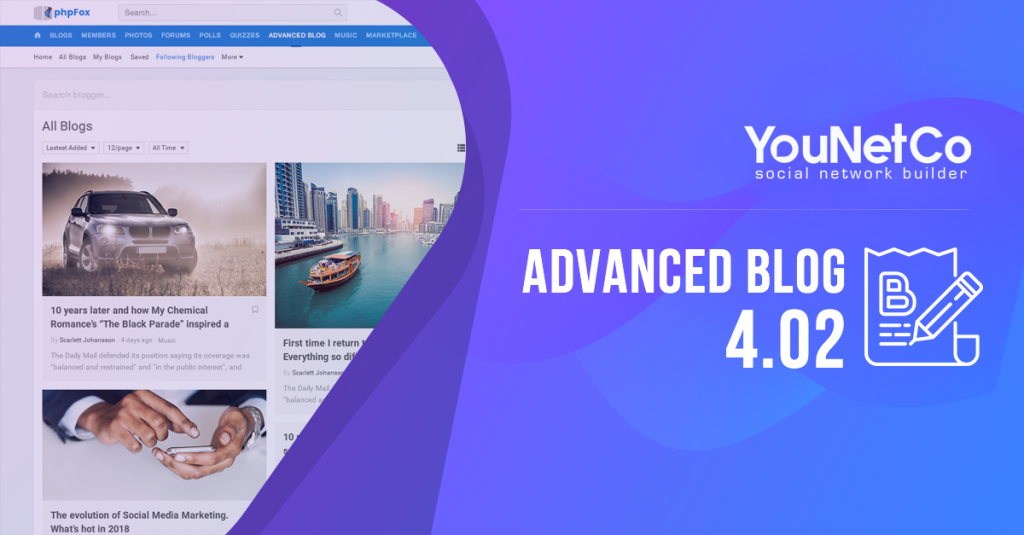 Find out what's new in this version now!
First off, coming into sight, the updates dramatically transform the appearance of the app. We have a cleaner, more minimal, though useful layout design and menu structure in almost every page. Additionally, all the tools are still available to access in custom blocks at ease. This fluid layout design enables a more responsive layout and incredible improvements in app's performance.
Regarding feature improvements, the app implemented several new settings which allows you to control and customize the app much easier. For instance, admin now can have custom URL to link to the app, or the ability to enable/disable RSS feeds… Also, just like on the new release of Ultimate Videos, we also bring enhancements to blocks in Advanced Blog. For instance, you can set a defined time to get the most popular blogs such as all time, this month, this week…
Other minor updates for blogging experience:
Feature image is no longer marked as a required field
New setting to hide featured image on the blog detail page.
Also, don't forget to upgrade YouNetCo Core 4.02 app before processing to upgrade Advanced Blog 4.02 to make sure there is no potential issue might happen.
If you would like to purchase this app, please click the button below.
As the main target in near future, we are constantly researching and upgrading our products. And with this new release of Advanced Blog 4.02, we hope the app makes it easier for you to write content, share moments, inspire others… through blogs. 
Let us know if you still have any queries about Advanced Blog 4.02 or our plan on app upgrades. We will get back to you as soon as possible!