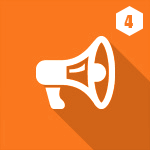 (This is a product for phpFox version 4. If you're looking for the same module for version 3, here it is http://phpfox.younetco.com/v3-advanced-social-ads.html)
In the business plan of most websites, advertising is mostly a mandatory part of revenue stream or monetization strategy when the userbase reaches a particular threshold. From this point of view, Social Ads comes out as a complete and headache-free solution for you to execute this important strategy of your business.
The plugin functions similarly to popular social ads platform nowadays, such as Facebook Ads where all business logic, workflow, terminology are simulated well. On top of that, the flexibility and efficiency of the ad are also improved by taking advantage of built-in features of PhpFox. Social Ads offers full-cycle workflow for ad business for both marketer/advertiser, and site owner to operate the advertisement most efficiently. All major use cases are well-implemented in the plugin such as for front end user (marketer/advertiser): ads and campaign management, payment transaction/credit management, view ads statistic. In addition, the site admin is well-equipped with administrative tools for ads placeholder management, ads package management, pay-later request/transaction management, mini CMS for FAQ, flexible global and user group settings.
Best compatibility: phpFox 4.6.x – 4.7.0
Product version: 4.02p2
Demo: http://phpfox4.demo.younetco.com/socialad/ad/
Key Features
Date time setting based on Site Configuration
Support ads through Feeds, Banner, HTML block.
Ads and campaign management
Advertiser can define the target audience specifically for single ad
Informative and attractive presentation Ads statistic report
Payment and credit management
Ads package definition with various options
FAQ management
Users can use activity points to pay for their ads
Integrate with Groups App
Support CDN to upload Ad photo
Front  End
Advertisers manage ads

Create ad by package which has offer different advantage per price (goal, item type, ad type, ad's information)
Define target audience with various demography properties
Manage all campaigns and view list ads of each campaign
View list of all ads. Can delete or pause the running ads
View ad details. Can preview the ad, view its statistics or create a similar ad 

Advertiser views payment

View all transactions in detail
Filter transactions by payment method and status

Advertiser views reports

View the report for all campaigns or for a specific campaign
Filter the results by date 

Instant help access via FAQ
Back  End
Ad package management

Define package with: price, benefit, module, block, item type, ad type.
Easily edit/delete/active/inactive packages

Pay later request management


Payment request listing
Confirm and cancel as per moderation by admin

Manage Ads:

List all ads
Search ads with variety criteria
Admin can: edit, delete, pause, approve, deny ads.

Manage Campaign:

List all campaign
Quick filter with status
Edit/Delete campaign

Manage Credit and transaction

List all credit and transaction
Search with many criteria
Moderate credit payment request and transaction.

Manage FAQ
Global Settings
Manage User Groups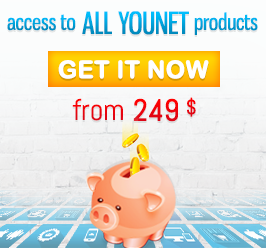 Supported Browser
IE9+, Firefox, Safari, Chrome
Support System
http://phpfox.younetco.com/client
Installation Guide
After purchase our product, an email will be sent to you immediately in which an installation guide is included to instruct you on how to install the product. If you purchase product with installation option, please submit ticket in the Client Area with FTP, site URL, and Site Admin account for us to install.
Refund & support policy
http://phpfox.younetco.com/product-support-refund
Support Time Monday-Friday, 8:30 AM-5:30 PM, GMT+7
Notice: For some reasons [email problem] that you do not receive email from us for product information, please contact us at info [at] younetco.com.