CMSCritic Award 2016 – Vote phpFox as The Best Social Network Software – get 15% discount
October 12, 2016 | 1788 Views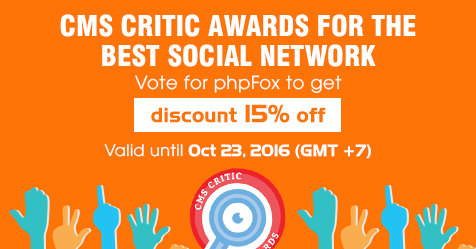 As you know that CMS Critic Awards 2016 are currently open and we delightedly inform that phpFox is chosen as one of 3 final nominees for The Best Social Network Software award. This is such a great news and congratulate to phpFox. 
phpFox would like YouNetCo to promote phpFox platform and we see it deserved. We would like to offer discount 15% for any purchases for our products until end of Oct 25, 2016 (GMT+7) to those who voted for phpFox. To verify your voting, please send us screenshot of your completed vote for phpFox via Contact Us form to get the discount coupon code.
Now it's time for us to help phpFox and nominate them as The Best Social Network Software award. The voting will end in November 1, 2016. So, hurry up and rock with phpFox. Please use this form and choose phpFox for the category Best Social Network Software.
Let's make phpFox win this award!!!