[V3] - Getting Started
$50
Getting Started allows you to give your users all helpful guides to use your website, include:
To-do List: allow admin to design recommended steps to help members get familiar with the website.
Knowledge Base: admin can highlights information about features, modules on website to address users' needs quickly and efficiently.
phpFox compatibility: 3.6.x –> 3.8.x
Product version: 3.02p7
Ajax mode supported: Yes
License key:
This module requires YouNetCore plugin to verify license.
License key and YouNetCore plugin could be found under your Client Area.
Demo: http://phpfox3.demo.younetco.com/gettingstarted/
Improvement
Support sub-categories
Ability to sort categories in BackEnd
Able to change the order of steps in ToDo List
Key Features
Support multiple languages for both To-do List and Knowledge Base to help members who live in many countries New
Block "Featured Articles" New
Related articles: when user views an articles on a category, system will show all articles of this category New
Highlight search terms: when you enter your keyword for searching, system  will highlight matching results so that you don't have to waste time hunting them down New
Provide the place where users can easily get website's ideas, features, rules, etc
Allow Admin to setup time period and reminder emails to inactive members
Show first-time member a list of what should be done after signed up
Allow Admin to manage Knowledge Base articles, Reminder emails, To-do List in Admin Control Panel
Front End
Display To-Do-List to first-time users
List Knowledge Base articles
Automatically send reminder emails to users
Back End
Mange User Groups
Enable / Disable users' comments on articles
Manage Settings
Enable / Disable Knowledge Base
Define email quantity to be sent in one time
Enable / Disable Email Reminder
Define article quantity to be displayed on Browse Articles page
Define article quantity for each category
Add Email
Add a new reminder email
Configure supported modules and events

Register: Welcome email will be sent after user signed up
Log out: Reminder email will be sent when user has not logged in for a "Reminder Time"(*) period
Blog: Reminder email will be sent when user has not posted an entry for a "Reminder Time" period
Video: Reminder email will be sent when user has not posted a video for a "Reminder Time" period
Photo: Reminder email will be sent when user has not posted a photo for a "Reminder Time" period
Poll: Reminder email will be sent when user has not posted a poll for a "Reminder Time" period
(*) Reminder Time: Admin to set a certain period
Manage Emails
Search reminder emails
View / Edit / Delete Reminder emails
Manage Article Categories
View / Add / Edit / Delete Article Categories
Add Article
Add a new Knowledge-Base article
Add Article Category
Add more categories to classify articles
Manage Articles
Search Knowledge-Base articles
View / Edit / Delete Knowledge-Base articles
Add To-do List
Manage To-do Lists
View / Edit / Delete To-do lists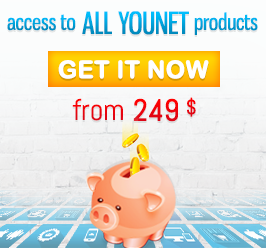 Supported Browser
IE9+, Firefox, Safari, Chrome
Support System
http://phpfox.younetco.com/client
Installation Guide
After purchase our product, an email will be sent to you immediately in which an installation guide is included to instruct you on how to install the product. If you purchase product with installation option, please submit ticket in the Client Area with FTP, site URL, and Site Admin account for us to install.
Refund & support policy
http://phpfox.younetco.com/product-support-refund
Support Time Monday-Friday, 8:30 AM-5:30 PM, GMT+7
Notice: For some reasons [email problem] that you do not receive email from us for product information, please contact us at info [at] younetco.com.