[V3] - Advanced Menu System
$40
What is the first thing that visitors look for when viewing a website? Navigation system. They want to know how to get to certain pages or access certain features of your web application. Therefore, it is important to have a clean, attractive and easy-to-use menu system, especially for social network because let's face it no body is going to stay long if they are unable to navigate through your site. Having a multi function menu system not only helps your users find what they look for easily but also show that your site is well-structured from navigational level.
Advanced Menu System was developed to bring site owners a new way to decorate and organize their menu system. Organizing main menu is simple with drag and drop action. Its highly functional features and beautiful design bring a fresh new look to your website. Advanced Menu System features a 3-level menu system along with individual menu item settings and detail configuration. Its flexibility includes ability to configure even the smallest details possible such as text color, hover color, separated line type, border size, border color, background color etc. There are 5 different stylish menus to choose from and each has its own set of css settings. Menu item can be shown as text or icon, however you like. Personalizing menu system has never been easier. 
phpFox compatibility: 3.7.x – 3.8.x
Product version: 3.01
License key:

This module requires YouNetCore plugin to verify license.
License key and YouNetCore plugin could be found in your Client Area.
Demo: http://phpfox3.demo.younetco.com
Key Features
Support Responsive Templates
5 different menu styles to choose from
4 different types of sub menus
Allow 3 levels of menu
Highly configurable menu item
Ease of configuration
Personalized menu style
Responsive and adaptive design
Site map generation based on current set up of menu items. 
Smooth animation effect
Front End
Responsive and highly adaptive design
Support 5 popular styles:

Flat
Special
Metro
Simple
White

Support 4 view types for each main menu:

Standard Hierarchical: Displays main menu with respective sub-menus and 3rd level menus in hierarchy

Ability to select sub-menu color and icons

Multi Columns: Displays main menu with sub-menus in multiple columns with their 3rd level menus

Ability to configure background color/image, and select sub-menu color/icons

Main Menu with Content: Displays main menu with respective content based on chosen logic
Mixed Menu: Displays main menu with sub-menus and their respective content on mouse hover

Support both Normal and Fixed – floating main navigation menu: This navigation menu is fixed on the top of the screen and floats as the site's pages are scrolled down
Manage Mini Menu:

Change icons for "Friend Requests", "Messages", and "Notifications"
Ability to manage colors of Header Search, Header Search Text, Header Link, Header Link Hover

Number of menu items exceeding limit set by module setting will grouped under "More"
Back End
Global Settings

Ability to switch between Advanced Menu and basic menu
Easily switch between 5 Main Menu Styles: Flat, Special, Metro, Simple, White
Enable / Disable fixed menu position when users scroll the browser
Allow / Disallow showing Advanced Menu to non-logged in users
Define number of tabs to show
Show / Hide "More" link when number of menu items exceeding the defined number of tabs
Ability to upload a JPG, GIF or PNG file and make as Site Logo

Manage Main Menus

Add more menus into menu bar. Select style of sub menu in 4 styles
Add more sub menus for each main menu
Ability to edit menu style, icon, text, text color, background color, hover color, link
In each sub menu, admin can change icon, text, link, text color, background color, hover color
Drag&Drop to reorder

Manage Contents

Content are used for 2 sub menu styles: Mixed and Content menu
Filter content by Menu
Add/Edit/Delete title, URL, photo
Easily select menu for specific content
Manually re-order the content within the same level sub-menu
Enable / Disable content

Main Menu Style Settings

Configure each Main Menu Style: Background Color, Text Color, Active/Hover Background Color, Hover Text Color, Separated Line, Top Border Size, Top Border Color, Bottom Border Size, Bottom Border Color, Dropdown Background Color
Configure Menu Dropdown Style: Left/Right Border Size, Left/Right Border Color, Bottom Border Size, Bottom Border Color

Mini Menu Style Settings

Change icons for "Friend Requests", "Messages", and "Notifications"
Configure Mini Menu Style: Header Search, Header Search Text, Header Link, Header Link Hover

Render Style

Ability to manually render CSS file from LESS files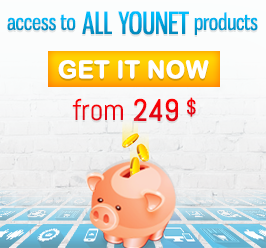 Supported Browser
IE9+, Firefox, Safari, Chrome
Support System
http://phpfox.younetco.com/client
Installation Guide
After purchase our product, an email will be sent to you immediately in which an installation guide is included to instruct you on how to install the product. If you purchase product with installation option, please submit ticket in the Client Area with FTP, site URL, and Site Admin account for us to install.
Refund & support policy
http://phpfox.younetco.com/product-support-refund
Support Time Monday-Friday, 8:30 AM-5:30 PM, GMT+7
Notice: For some reasons [email problem] that you do not receive email from us for product information, please contact us at info [at] younetco.com.