[V3] - Mobile Application - iPhone Version
$250
This price is for Early Bird Purchase only, Purchase Now! 
With the fast growing trend of mobile social networking, the line between the line between mobile and web is being blurred. More and more people use mobiles and smart phones to access social networks every day. With success of phpFox Android Application, we are proud to introduce phpFox iOS application  as a tool to increase mobility for your social network.
This application is a native mobile application specially designed for mobile with the purpose of increasing interaction between members and your community. Your members are now able to access your community from everywhere to share instant updates and social activities. Mobile application also provides easy way to browse photos, send message, and participate in any event and more valuable features that your members will surely want to experience and enjoy.
Although this application is designed for mobile, it is still tightly connect with the phpFox admin site of your social network. All activities in mobile application will be managed by module settings in admin panel.
phpFox compatibility: 3.6.x –> 3.7.x
Product version: 3.01
Demo: Will be updated – Waiting for Apple Approval
Notice:
Setup Fee is not refunable
Login Splash Design: redesign login and splash page with your own style
Key Features
Admin is able to customize CSS style and Left Navigation
Support module video and music
Members are able to view YouTube videos and play songs 
Allow members to edit title, description of their owned videos/songs
Enable your members to share instant social activities by supporting multiple modules: Friends, Message, Photo, Event, Profile, Video, Music, Blog
Presents users a friendly interface with smooth navigation: larger buttons and inputs, easy navigation and awesome animation effects.
Provides users with quick navigation by adding a panel in the left. Users are able to switch between each module easily using this left navigation menu.
♦ Upcoming Release
Loading and Performance Improvement

UI/UX Improvement
Mobile Application Features
Sign in: Users who have already been members of your social network can sign in any time using this application. This application also enable your members to request new password in case of forgetting password.
Instant updates: allow users to share instant status with your community faster than ever with options to like and comment.
Friends: provide quick access to friend list by selecting right panel. Your member can search for friend in friend list by name.
Mail/Message: sending message is now easier with mobile application:

Your members are allowed to compose and reply message instantly.
Members are able to view the content of a mail with option to reply or delete
Allow member to view inbox mail, sent mail and deleted mails

Photos and albums: your members will experience a fast way to browse, edit photo and album details:
Event is now also available with many valuable features:

Provide members the ability to create, edit and participate in an event.
Allow a member to view owned past and future events. Friends' events are also available to view with option to select a category.
Option to invite other members to an event
Show location of event in map
Show number of attendees of an event

Social media: with this application, your members are able to enjoy watching to videos and listening to music on mobile with option to search, like and comment
Profile: it is possible for a member to view his/her profile using this mobile application.
Notification system is also available on mobile to show number of notifications with option to allow members to view details
Admin Site
Admin is able to configure settings in admin panel
Custom Styles: Create a custom style for interface with option to set background color for button, footer, menu and posts
Manage Styles: Allow admin to save and manage custom style
Navigation: Admin can manage all navigation of the left menu panel in front end with option edit, deleted, enable or disable any module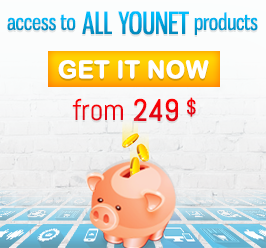 Supported Browser
IE9+, Firefox, Safari, Chrome
Support System
http://phpfox.younetco.com/client
Installation Guide
After purchase our product, an email will be sent to you immediately in which an installation guide is included to instruct you on how to install the product. If you purchase product with installation option, please submit ticket in the Client Area with FTP, site URL, and Site Admin account for us to install.
Refund & support policy
http://phpfox.younetco.com/product-support-refund
Support Time Monday-Friday, 8:30 AM-5:30 PM, GMT+7
Notice: For some reasons [email problem] that you do not receive email from us for product information, please contact us at info [at] younetco.com.