New Product Release: [V4] – Facebook Clone Template
May 3, 2018 | 1086 Views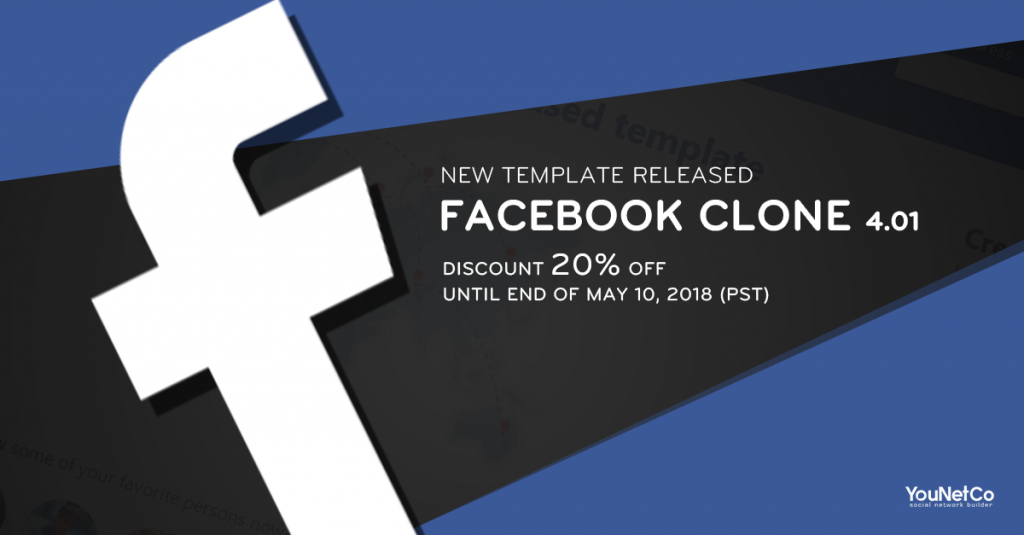 The spring season is continuing to spread its charm and every tree is waking up to its splendor. And to celebrate this ecstatic moment, we are back again to bring you our latest template release.
As we all know, Facebook is the largest social networking site in the world. Definitely, it sets the standard for every social network to be a triumph. Therefore, if you launch a social network and you want it to be successful, you certainly should learn from the best. It's the ultimate reason we tailor-made Facebook Clone template to assist you to take advantages of Facebook's best ideas and deliver them to your site.
With Facebook Clone template, we offer a completed Facebook look-alike appearance to your site. Thus, users can feel like it's home when they can access any features and contents on your site just like they always do it on Facebook.
Additionally, the color theme, layouts, images, buttons, and menus were completely re-designed to provide the most similar looking to Facebook on your site.
Please note that the word "Clone" is used as the reference. This refers to the custom development of the template which has functionality similar to Facebook. Indeed, we do not offer an identical copy of Facebook.
KEY FEATURES:
Completed Facebook look-alike appearance.
All icons, images, color theme are well-designed to give users familiar feeling as using Facebook.
Unique & logic customization on each block, menus, buttons.
Robust & fully responsive.
To experience more on the template, please refer to our product posting or try the template yourself on our demo site.
Posting: https://phpfox.younetco.com/v4-facebook-clone-template.html
Demo site: https://phpfox4templatesdemo.younetco.com/fbclone
PROMOTION:  To celebrate the release, we are offering 20% OFF on all purchases of Facebook Clone template until May 2, 2018 (PST).
So please act quickly and don't miss this marvelous deal to own the template!
If you have purchased our Deluxe package, please submit a ticket in our Client Area to get this new template added to your account in phpFox store.
Hope that you will have a great experience with Facebook Clone template.
Also feel free to contact us whenever you have inquiries. We will get back to you as soon as possible.